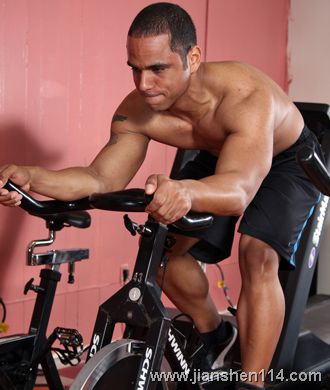 Are you still dieting to lose weight this year? Although I can't resist eating dinner, but high-calorie snacks are always with you, a few pounds of water, and silently come back again and again; even if it is a few pounds, but look at the loose pull The fleshy skin, one Latitude, you can still be happy? Look at the hot supermodels on the annual Secret Show, each of which is a fitness-loving fitness person; let us " steal the teacher " fitness female personal education, shaping our perfect body!
Let the sport exist like three meals a day
Nowadays, urban people have a lot of stress and fast pace, which makes the movements not simple. Everyone wants to " have a vest line immediately " and " skinny 10 pounds in a month " . This seemingly clear and clear goal will change the movement. Become a means. Once the target is reached, it will stop exercising, which will not only have a bad impact on the body, but also lose the most original fun of the sport. In fact, only by dispersing your goals in the habits can you truly release your enthusiasm for sports, and you can also harvest the most primitive happiness that sports bring to people from this enthusiasm.
333 principle
333 What is the principle that three times, a total of more than three hours per week, each more than 30 minutes, is the arena of popular "movement golden rule." For those who have never had any exercise habits, start with the sport you are interested in. Whether it's a quick walk or a mountain climb, as long as you can stimulate your interest in sports and do it within your reach. Exercise is expensive, only persistence will have an effect, and as long as exercise is good, of course, if you want to quickly change the shape, shape fat loss, then it is best to add the number of training per week to 5 times, and each time More than 30 minutes.
The fat layer is thinned to effectively shape
A tall and energetic figure is the only way for a woman to always be confident in front of others. The secret is that only the whole body is moving, so that the fat layer is thinned, in order to effectively slim down and shape. Therefore, you must adhere to regular exercise, 3 to 5 times a week, usually self-weight strength training with stretching training. If you don't have that much time, whether it's 10 minutes, 30 minutes or 1 hour, you can move whenever and wherever you want.
Stubborn fat tough battle, the trick is no longer difficult
So far, I still remember a female judge in a 2007 show, when I heard the excitement, when I shook my arms, the picture on my arm was " waves rolling " . By the sleeves, the extra meat told the most directly. You are " fat " , even if you play a fat-soluble needle under your arm, you can't change its looseness and weakness. But the main part of the fight as long as you can pick up the dumbbell toning - the triceps, compact dumbbell is the most approachable of equipment oh.
The exclusive 甩 meat trick for OL
Sedentary office, not only can not get rid of the worship of meat, even the meat of the waist and abdomen will come out constantly, over time, the swim ring is like a lover. In fact, even in the office, we can put two small dumbbells with you. During the lunch break, less than 10 minutes of action, the beautiful and healthy willing to re-friend you.
Exercise is heavy, relaxation is not strong
Dumbbell exercise, the most important thing is to relax before training, you must fully relax the muscles to open, otherwise not only the movement can not achieve the effect, it will be particularly easy to cause training accidents such as strain. The problem of exercise intensity varies from person to person. Under normal circumstances, based on the feeling of soreness on the second day, " light weight, many times " should be familiar with the heart.
 
Give your little one a separate place to keep all his/her things organized with the toy storage.Your little one can now take the plastic bins in this kids' storage unit around and replace them after play time. You can use the wide top to display books, or any other decorative item. At the bottom there is a spacious removable compartment that has casters for smooth movement. Crafted from durable wood, this toy storage unit will continue to serve efficiently for many years. It provides easy-to-see and easy-to-access open storage for your convenience. Not just toys, you can use this storage unit to stack books too.
It's time for kids to get toys sorted in our toy storage unit.The playroom or bedroom is a clutter-free zone when our toy storage unit keeps belongings in check.
Toy Storage,Toy Organizer,Toy Storage Units,Toy Storage Bins,Toy Cabinet
FuJian YuanFu Import&Export Trading Co., Ltd. , https://www.fjyffurnitures.com